Optical Cable Corporation is a leading manufacturer of the highest quality tight-buffer fiber optic cables and data communication connectivity solutions designed for enterprise markets and customized solutions for specialty uses and harsh environments. Today, OCC offers an integrated suite of quality, warranted network cabling solutions designed to provide outstanding performance characteristics. For innovative and dependable products and solutions that give you a clear advantage for critical communication applications, OCC has connections.
Corporate Overview
Optical Cable Corporation:
A heritage of innovation, a tradition of leadership.
Optical Cable Corporation (OCC) is a leading manufacturer of a broad range of fiber optic cable and data communication connectivity solutions. The company offers an integrated suite of high-quality, warranted cabling and connectivity products, primarily for the enterprise market. OCC's product offerings are designed to meet the most demanding requirements of end-users and are sold worldwide for uses ranging from commercial, enterprise network and campus installations to customized products for specialty uses and harsh environments such as industrial, mining, military, security and broadcast applications.
Optical Cable Corporation finds its genesis from the development of mission-critical data conduits for the government. In the late 1970s and early 1980s, there was a fundamental shift in military strategies and tactics. The ability to gather, distill and act upon huge volumes of data became the ultimate weapon of a military that employed a wide new array of technically advanced tools.
To achieve its mission, the U.S. military needed an extremely strong, lightweight, rugged and survivable fiber optic cable for military tactical field use. Optical Cable Corporation and its engineers were at the forefront of the development of the tight-buffered, tightbound cable technology that was easy to deploy, functioned under the harshest of conditions without breach of performance and could handle an unprecedented mass of data.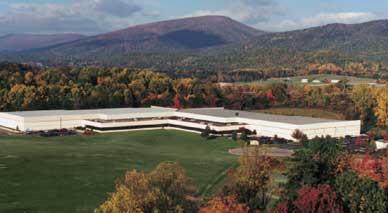 Founded in 1983, Optical Cable Corporation is internationally recognized for pioneering the design and production of fiber optic cables suitable for both indoor and outdoor use in the most demanding military field applications. A broad product offering was built on the evolution of these fundamental technologies.
The uncompromising principles that led to the development of the first OCC products remain a constant influence on the design, production and service at Optical Cable Corporation. End-users benefit from fiber optic cables and connectivity products that are easy and economical to install, provide a high degree of reliability and deliver exceptional performance.
As Optical Cable Corporation grew, the company applied these technologies, manufacturing methods and its thorough understanding of the capabilities of the tightbuffered cable process to designs for fiber optic cable for commercial applications.
Optical Cable Corporation established footholds in the industry and developed a relationship with a worldwide network of distributors. Since 1996, OCC has been publicly traded (Nas daq GM: OCCF) and now serves virtually every business sector. About one-quarter of OCC's sales are international, with customers in more than 70 countries.
Optical Cable Corporation is headquartered in Roanoke, Virginia, with offices and manufacturing and warehouse facilities located both in Roanoke, Virginia, and near Asheville, North Carolina. OCC's manufacturing facilities are ISO 9001:2000 registered, and its Roanoke facility is MIL-STD-790F certified.
---
Making the power of communication accessible.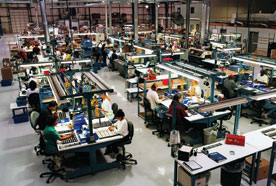 In May 2008, Optical Cable Corporation acquired SMP Data Communications, a company internationally recognized for its role in establishing data communication connectivity standards through its innovative and patented technologies, while offering a full range of fiber optic and copper data communication connectivity products.
At about the same time OCC was revolutionizing the optical cable industry, this North Carolina company was making bold inroads into connectivity for a broad range of industries. Through engineering excellence and consistent performance, SMP Data Communications (also known as Superior Modular Products Incorporated) was engineering products to enhance connectivity and networking products that established new industry standards.
SMPSMP Data Communications holds a long list of patented technology and intellectual property that emerged from Research & Development initiatives. These include the low cross-talk electrical connector system that revolutionized the high-speed connector industry and is still the basis for today's higher frequency connectivity development.
An evolution in product design led to the development of the impedance matched, reduced cross-talk, electrical connector system. As we move toward the emergence of Gigabit Ethernet, issues of the critical role that impedance matching plays have been recognized and issues of return loss and impedance have been propelled to the forefront of connector design. SMP Data Communications has a history of backing this innovation with a commitment to product testing and customer service.
Today, as part of the Optical Cable Corporation family, SMP Data Communications continues to drive standards for emerging technology such as 10Gbps over copper connectivity and cabling, Category 6a cabling standards and Extended Power over Ethernet. Dedication to designing superior fiber optic and copper connectivity components keeps the company at the forefront of the telecommunication industry.
Optical Cable Corporation's acquisition of SMP Data Communications was a milestone marking a new opportunity to expand and extend OCC's legacy of innovation.
---
A tradition of leadership in technology, product performance and customer service.
Optical Cable Corporation pioneered the use of military tactical cable technology with advanced manufacturing techniques to offer new cable designs specifically optimized for the requirements of moderate-distance local area network (LAN) installation environments. Today, the company manufactures a comprehensive, state-of-the-art line of tight-buffered fiber optic cable products, which address nearly all communications applications, including data communications, LANs, telecommunications, video transmission, cable TV, traffic signaling and military tactical communications.
Gigabit Ethernet, 10 Gigabit Ethernet, and emerging technologies are placing new stresses on communications systems. Optical Cable Corporation meets today's challenge with the industry's widest array of optical fiber types and performance characteristics. Optical Cable Corporation, together with SMP Data Communications, ranks among the industry's leaders in innovation—keeping pace with the growing demands of an increasingly connected world. OCC also provides a resource to educate specifiers, architects and the industry as a whole on the benefits of emerging technology.
Optical Cable Corporation, together with SMP Data Communications, offers a broad range of fiber optic cables and fiber optic and copper connectivity products, enabling OCC to provide customers with integrated data communications cabling and connectivity solutions. Optical Cable is committed to building on the spirit of innovation while staying focused on meeting the changing needs of customers worldwide.